Advanced Expository Essays - For Grades 9-12
"The Step-by-Step Guide To Producing Exemplary Expository Essays"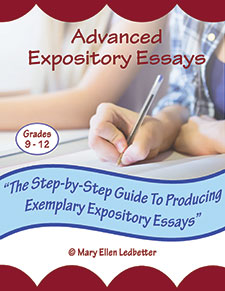 "I don't know what to write about!" is a common refrain most English teachers have heard more times than they care to count.
One of the most difficult jobs as a writing teacher is finding essays to which students can relate. This packet of original, unique exemplary expository essays has done the work for you.
Included are dozens of essays of more advanced levels that can serve as ready-to-use models for your students.
Each piece is marked for structure (Hook, thesis, topic sentences, support, "re-hook," and restatement of thesis) to illustrate for students the necessary components of superlative works and to indicate how they should "mark up" their own works.
Also, supports (i.e., elaboration, the number-one problem with student-writing as evidenced by research) are identified in order for students to understand the importance of backing up their ideas with different strategies.
Not only is voice is being graded more, but it is the difference between uninteresting papers and ones of which even students can feel proud, thus motivating them to gradually produce more quality, sophisticated works.
In addition, this resource provides specific steps to achieving exemplary writing, sample lesson plans, writing in stages, an example web and the writing that was developed from it, and more. Research has indicated that planning the bodies and elaboration before beginning the rough draft leads to higher grades while building confidence in students' abilities.
There are even dozens of expository prompts that will not only excite your students but require that they use their higher-level thinking skills to plan their responses.
These essays are designed to fit the requirements of any curricula and can be implemented at any time. You will use these time and again and not be disappointed.
Advanced Expository Essays
For Grades 9-12
Details
Subjects Covered
English Language Arts,
Writing Expository,
Writing Essays
Grade Levels
9th - 12th, Homeschool
Resource Type
Activities, Handouts
File Type
PDF Document
Total Pages
Price

$25.00



You can order this product on TeachersPayTeachers!