Smiley-Face Tricks Getting Started (Voice) For Grades 6-12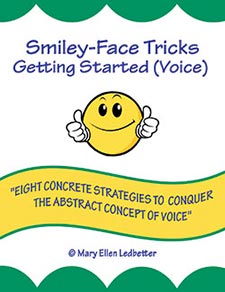 Connect, Motivate, Model—those are just part of the motto of Mary Ledbetter's Success One Step at a Time writing and reading / literature comprehension program.
"Voice is recognized and scored more consistently in writing than any other trait." (Research on Effective Writing: Northwest Regional Educational Laboratory)
Little did I know twenty years ago how popular the Smiley-Face Tricks would become. Educators have put them on-line, presented them at conventions, and used them in classrooms across the nation for one simple reason—they work. To give credence to them, I need to tell you why and how they came to be my answer to developing voice in writing.
In my first high school teaching position—AP students—I found that the structure, elaboration, and mechanics of their essays were basically commendable. It was their voice that was lacking. I like to think that my own models exemplified that elusive quality—namely, one that wouldn't put them to sleep. The problem was that I didn't know how to "teach" this trait. Bookstores left me empty-handed, but it was my own library that provided me with the magical answers. Armed with yellow pad, pen, and a mountain of books with favorites passages marked, I sat cross-legged on the floor of my den and found eight common denominators in the masters' writing. I had struck gold! I quoted student-friendly examples, gave attribution, and proudly passed them out to my classes. Imagine my surprise when they were actually excited. They wanted to try each and every trick, and even from day one they realized their writing would become a little more special.
The only "trick" I coined was the term "Magic Three," which I had never seen or heard of even in my graduate studies at Michigan State. I had discovered what I thought would be my own little gimmick for conquering an abstract concept with concrete examples.
I needed to let you know the story. I also thought you might want to be introduced to them or have more examples if they are already in your "tool kit." This bundle, then, includes what I consider to be exemplary illustrations to use as models for more advanced classes. Have fun with them, and I promise you will see results—Success One Step at a Time.
The bundle includes the instructions, but basically the voice tricks are meant to be taught one per day—with 5 minutes or so for students to write—culminating in the teacher's calling on four or five students to make sure that they are on track and to take any questions. The process, then, would be about 15 minutes each day for eight days. I recommend that after all eight tricks are learned, students partner to identify the tricks in literature.
| Smiley-Face Tricks Getting Started (Voice) For Grades 6-12 | Details |
| --- | --- |
| Subjects Covered | English Language Arts, Creative Writing, Writing |
| Grade Levels | 6th - 12th, Homeschool |
| Resource Type | Activities |
| File Type | PDF Document |
| Total Pages | 48 |
| Price | $12.00 |
You can order this product on TeachersPayTeachers!