All About Me!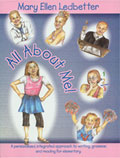 A personalized, integrated approach to writing, grammar, and reading for elementary students
This one-of-a-kind 600-page comprehensive resource book gives K-6 students dozens of teacher and student writing samples to analyze and use as models for their own work. Higher-level thinking questions involving structure, voice, and mechanics are included so that students can analyze the components of quality writing.
Mary Ellen's "Writing Tricks" are a tangible method for students to find not only their own voice in their own writing but to study how the master have achieved success. Besides writing at all levels and in all modes, students are provided with student-interactive rubrics—not merely "grading" rubrics—but a step-by-step process that enables writers to revise their papers to prove that the necessary elements are included in their pieces. Peer responses also are designed to ensure that readers offer constructive criticism that will further shape the papers. By the time the works have gone through so many stages, the final product is a sophisticated piece that makes conferencing not a task but a pleasure. Reading, grammar, writing integrated with other content areas as well as vocabulary and engagement strategies (Dailies) are included also. This book will work with any curriculum at any given point.
It is a must-have for teachers of language arts.
All About Me
Details
Subjects Covered
Writing, Grammar, Reading
Grade Levels
Kindergarten, 1 - 6th
Total Pages
604
Price

$39.95




NOW $19.95
Order using Paypal or Credit Card: