Help Your Students Write Research Papers in Any Mode of Writing: Motivating Assignments & Examples Resulting in No Papers at Home!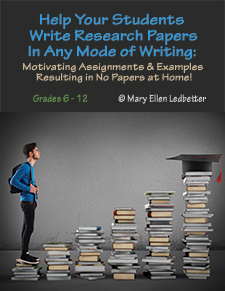 This unique resource gives secondary English teachers a refreshing new approach to research-based writing that takes students step-by-step through the process of writing research papers in all modes, provides dozens of award-winning student and teacher models, and offers a variety of projects.
You fill find projects ranging from short activities that allow students to write routinely using constructed responses to texts read in class to longer, more in-depth analysis papers. The two-part purpose of all the assignments—no matter the mode—is to motivate students with newly created, interesting prompts as well as to prohibit plagiarism.
Included are Narrative research papers that require student knowledge of all literary terms that comprise a well-written narrative to stylistic devices to sentence combining to voice, and grammatical aspects—all of which are delineated on a comprehensive checklist. "What If I Had a Million Dollars" involves student inclusion of two investments, charities, housing, transportation, and more—including a spread sheet that explains where every penny was spent. Argumentative, Expository, and Dominant Impression assignments require that synthesis and application in writing technique be combined with prompts that encourage—not discourage—student effort. Multi-Genre papers are the quintessential example of research combined with creativity.
Help Your Students Write Research Papers in Any Mode of Writing:  Motivating Assignments & Examples Resulting in No Papers at Home!
Details
Subjects Covered
Writing
Grade Levels
Middle School,
High School,
6 -12th
Total Pages
Price
$29.95
Order using Paypal or Credit Card: