Run-Ons, Fragments, and Commas: Three Most Prevalent Grammar Errors
For Grades 6 - 12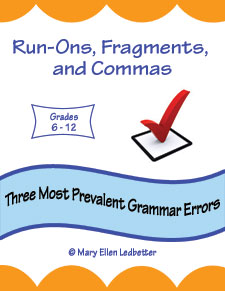 Research has shown that the most common grammatical errors made by students are run-ons, fragments, and commas (either "sprinkling" them in without reason or using none at all).
This packet addresses those issues in a variety of ways--from individual work to partner exercises to whole-class responses. Student have opportunities to correct the errors in other students' works, write their own sentences not only devoid of errors but incorporating specific stylistic devices (voice), and respond to their peers explaining their strengths.
There are even sentences from famous works that students can use as practice for adding commas and the rules that apply while studying the structure of these master writers.
These skill sheets are unique, motivating, and appropriate to use with any curriculum at any point in the year. You will use these time and again.
Run-Ons, Fragments, and Commas:
Three Most Prevalent Grammar Errors
Details
Subjects Covered
English Language Arts,
Grammar, Writing

Grade Levels
6th - 12th, Homeschool
Resource Type
Lesson Plans (Bundled),
Activities, Handouts
File Type
PDF Document
Total Pages
Price

$12.00



You can order this product on TeachersPayTeachers!