Helping Your Unmotivated and Underperforming Writers Succeed (Grades 6-12) E-Book
Motivational Activities for Struggling and Reluctant Student Writers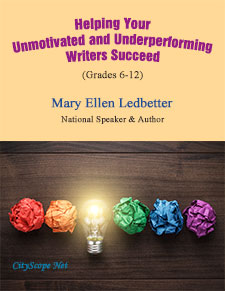 This book motivates students by providing assignments that "speak to them," that are about their own worlds. Once students realize that writing is not an isolated practice, one with no connection to their lives, then they will become more invested in the process. Obviously, then, the first step is helping students develop a positive attitude toward writing, a growth mindset. When their interest and confidence have been strengthened, then voice "tricks" and specific elaboration skills can be introduced. Students will be surprised to see that by implementing these skills not only will their Quick Writes be more "fun" for them to write, but they will realize that with each assignment they will have achieved more and more success. Using models to take students through a step-by-step approach to writing essays gives them direction and chances to revise to meet their goals. Dozens of activities are included that are designed to achieve higher productivity, independence, and accountability. With specific guidelines, example papers, check points, and peer collaboration, underperforming students gradually become performing ones.
TAGS: Struggling Students, Underperforming Students, Unmotivated Students, Reluctant Student Writers, Reluctant Learners, Low Performing Students
Helping Your Unmotivated and Underperforming Writers Succeed (E-Book)
Details
Subjects Covered
Writing, Motivational Activities
Grade Levels
Middle School,
High School,
6 - 12th
Total Pages
136
Format Available
PDF
Price
$39.95
Order using Paypal or Credit Card:
Ordering By Phone or Order Form
Please NOTE: The E-Book will be emailed to you after we receive your funds. Please allow 1-2 days to process. Each E-Book is sent to the Teacher's email account for their classroom use only.
Developing a Positive Attitude toward Writing
This section of the e-book contains 46 pages of activities created to instill in students the fact that writing does not have to be hours' worth of "drudgery" that ends in failure.  Instead, "games," partner interview questions, "Things that Get on My Nerves," autobiographical "blurbs" about the student's past, present, and projected future, "My Name" assignments, and others will motivate these underperforming students to achieve.
Strengthening Writing through Voice and Elaboration
More often than not students understand that the papers they turn in are uninteresting and "boring" even to them.  The problem is that they have no specific tools to address this issue.  People want to be heard, to have a "voice," and students are no different.  Once they realize that developing that "voice" is a way to create their own individuality, to say what they want to say in their own unique way, the next roadblock is removed.  In addition, these same students have more than likely been told to elaborate on their points, but—again—they don't know how.  With over a dozen specific techniques at their disposal, soon each idea will be stated coherently with enough elaboration to satisfy both writer and reader. 
Breaking down the Basics of Writing
Instead of assigning a writing prompt and expecting students to achieve success without any intervention, this e-book breaks down assignments into manageable segments.  The prompts are designed to be student-friendly, beginning with "Building on Words, Phrases, Sentences, and Paragraphs."  Modes included are the following:  expository, argumentative, literary analysis, and poetry.  Naturally, graphic organizers and other methods of planning essays along with a chart of Writing in Stages (what the necessary elements are for each paragraph and a suggested time period) help ease students into the actual process.  There are sample student-written essays that need revision in sections (introductions, bodies, conclusions) that enable them to pinpoint problems not only in these papers but in their own as well.  Peer response activities give further opportunities to revise, edit, and proofread while self-reflections help them analyze their own strategies, thus internalizing their strengths and weaknesses. At this point, students have truly become invested in the process of writing.