Contact Mel's Pen LLC
Schedule a seminar or workshop:
To schedule a seminar/workshop with Mary Ellen, please fill out our contact form.
If you would like to contact us by phone, please contact us during business hours at 1-281-573-3380 or Jim at 281-639-7987.
Our Business Hours:
Monday-Friday, 8:00am - 5:00pm CDT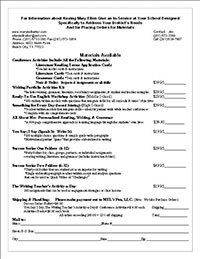 Order Materials by Fax or Email:
To order materials, please print out our Order Form and fax to 1-281-573-1054 or email the scanned order form to the email address on the order form.
Thank you.